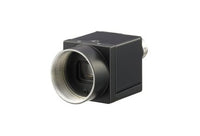 SONY XCLC30C VGA Progressive Scan PoCL Camera
Sony has made it easier than ever for customers to migrate from analog to digital with the introduction of the new COLOR PoCL camera, the XCL-C30C. Featuring VGA resolution of 659 x 494 effective pixels, this camera offers exciting new options for a wide array of applications, including Intelligent Transportation Systems, machine vision and sports shooting. The XCL-C30C camera is equipped with several unique features, including Shading Correction, Defect Correction and Temperature Readout.

FEATURES

Shading Correction: Minimizes uneven image intensity caused by lighting conditions.
Defect Correction: Automatically minimizes defective pixels directly inside the camera.
Temperature readout: Eliminates the need for a separate sensor and simplifies system configuration.
Memory Channel: Up to 16 sets of camera parameters can be stored in addition to the factory default settings.
Bulk Trigger Modes: Allows the camera to capture up to 16 images in rapid succession using a single hardware or software trigger.
Sequential Trigger Mode: Allows the camera to capture a single image using successive setups stored in the memory channel.

CAMERA SPECIFICATIONS
Image Device: 1/3-type progressive scan IT CCD
Effective Pixels: 659 x 494
Cell Size: 7.4 µm x 7.4 µm
Output Image Size: 1,280 x 960
Sensitivity: F5.6 (2000 lx, Gain: 0 dB)
Lens Mount: C Mount
Frame Rate: 130 fps
Gain: Auto, Manual: 0dB to +18 dB
Trigger Shutter: 2 s to 1/100,000 s
Partial Scan: H: 16 to 588 V: 2 to 494 Steps of 2

VIDEO OUTPUT SPECIFICATIONS
Minimum Illumination: 1.5 lx (Iris: F1.4, Gain: +18 dB, Shutter 1/90s)

GENERAL SPECIFICATIONS
Dimensions (W x H x D): 29 x 29 x 30 mm (1 3/16 x 1 3/16 x 1 3/16 in)
Weight: 56 g (2.0 oz)
Operating Temperature: -5°C to +45° C (23°F to +140°F)
Storage Temperature: -30°C to +60°C (22°F to +140°F)
Operating Humidity: 20% to 80% (no condensation)
Storage Humidity: 20% to 95% (no condensation)
Vibration Resistance: 10 G (20 Hz to 200 Hz)
Shock Resistance: 70 G