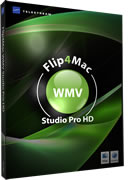 TELESTREAM SKU35243986698 Flip4Mac Studio Pro HD
Flip4Mac® components allow you to play, import, convert and export Windows Media video and audio files on your Mac.

In a world with about 90% Windows market share, Flip4Mac fills an important need for the Mac community by bridging the gap between Mac and Windows environments. For users switching from Windows to Mac, these intuitive components enable access to Windows Media content and easy integration with a Windows-based infrastructure.

Flip4Mac Player Play Windows Media files (.wma and .wmv) directly in QuickTime applications and view Windows Media content on the Internet using a web browser.

Flip4Mac Player Pro Adds the ability to import WMV and WMA files for editing and conversion to QuickTime formats or iOS devices.

Flip4Mac Studio Includes all the features of Player Pro, and adds the ability to create standard definition (up to 768 X 576) WMV files using preset templates and custom encoding profiles.

Flip4Mac Studio Pro HD Includes all the features of Studio, and adds two-pass HD (up to 1920 X 1080), VBR encoding and pro audio features.