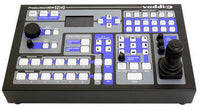 VADDIO 999-5600-000 ProductionVIEW HD
Camera Control Console with HD, RGBHV and SD video mixing, transitions, lower screen graphics and automated control functionality.

The ProductionVIEW HD multi-camera control system is designed to handle the most demanding live broadcast or staging events, yet it's simple enough to allow a novice to shoot like a pro. ProductionVIEW HD integrates PTZ camera control and multi-format HD/SD live switching with real-time graphics and effects into one easy-to-use control console.

The completely redesigned surface gives system users real-time knobs and buttons to control functions. Because ProductionVIEW HD is a live broadcast console, not a computer, the entire system produces only one frame of delay — a critical requirement where image magnification is used.

KEY FEATURES:
Six HD/SD inputs can be scaled or converted from 480i (SD) to 1080p (HD) and a variety of analog SD/HD or RGBHV resolutions.
Transitions include cross fade, nine wipes, cut, fade to black (FTB)
3-Axis hall-effect joystick
12 Camera presets
Lower Screen Graphics feature for inserting graphics over video
Knobs for adjusting focus, iris, transition speed and pan/tilt/zoom built into the console
AutoVIEW contact inputs for camera switching

TECHNICAL FEATURES:
Master RS-232 Control Port
The master control port allows connection to other control systems for complete access to the internal functions of the ProductionVIEW HD.
Compatible Cameras
The ProductionVIEW HD is capable of identifying by auto-sensing each camera attached. Control codes for most of the following cameras are built-in (see manual for list):
Vaddio WallVIEW™ Series Cameras
Vaddio HideAway™ & CeilingVIEW™ Cameras
Panasonic AW-HE100 PTZ Camera
Sony EVI & BRC Series of Cameras
HD Resolutions:
1080p (59.94/50)*
1080i (59.94/50)
720p (59.94/50)
*With monitor support on YPbPr input.
SD Resolutions (Y-C and Composite):
480i (720 x 486 @29.97Hz) NTSC
576i (720 x 576 @ 25Hz) PAL
RGBHV Resolutions:
640 x 480 @ 60Hz - VGA
640 x 480 @ 75Hz - VGA
800 x 600 @ 60Hz - SVGA
1024 x 768 @ 60Hz - XGA
1024 x 768 @ 75Hz - XGA
1280 x 1024 @ 60Hz - SXGA
1280 x 768 @ 60Hz
1400 x 1050 @ 60Hz — SXGA+
1366 x 768 @ 60Hz - WXGA
1600 x 1200 @ 60Hz — UXGA
1920 x 1200 @ 60Hz - WUXGA**w/Reduced Blanking
**WUXGA Available on Outputs Only (with monitor support on VGA input)

TECHNICAL SPECIFICATIONS:
Compatible Cameras: Vaddio, Panasonic, Sony & Canon (See Manual for Specific Models)
Video Formats Supported: NTSC and PAL
Video Switcher: 6 x 2 (or Two 6x1)
Video Transitions: Cross Fade, 9 Wipe options and Straight Cuts, Fade to Black
Video Inputs: Six (6 - DE-15): RGBHV, HD Component (YPbPr), or Y-C & Composite using adapter cables
Preview Output: Two (2 - DE-15) Preview Outputs: RGBHV, HD Component (YPbPr), or Y-C & Composite using adapter cables - Same resolution on each output
Program Output: Two (2 - DE-15) Preview Outputs: RGBHV, HD Component (YPbPr), or Y-C & Composite using adapter cables - Same resolution on each output
Camera Control Ports: Six (6) RS-232 on RJ-45F
Control Interface: One (1) RS-232 on DB-9
LCD Display: 8-line backlit LCD display
Power Requirements: PowerRite 18 VDC, 2.78 Amp
Control Inputs for Auto Mode (input 1 & 2): Cameras 1 & 2 have 6 presets each or Camera 1 can have 12
Tally Output: Tally outputs for each of the six video inputs
Weight: 9.5 lbs. (4.32kg) — approximate weight
Dimensions (H x W x D): 16" (40.64cm) x 10" (25.4cm) x 4" (10.16cm)

WHAT'S INCLUDED:
ProductionVIEW HD Video Control Console
PowerRite 18 VDC Power Supply
AC Cord Set
Documentation

ProductionVIEW HD and HD-SDI: Overview


ProductionVIEW HD: Operation


ProductionVIEW HD: Configuration