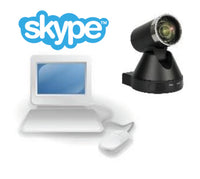 Skype Conferencing Kit with High Definition USB PTZ Camera
The Skype High Definition USB Conferencing Package is an easy way to completely outfit a conference room with equipment for Skype conferencing. All the audio and video hardware needed is included in one package. Video conferencing software is not included. Take advantage of this pre-packaged system and you will find that video conferencing can save time, money, and the personal hassle associated with in-person meetings, training and travel.
The GO ELECTRONIC GOHD20U is our recommended camera for Skype software. With it's plug-and-play interface via a USB port, you simply connect the GOHD20U camera to a laptop or desktop computer and Skype will recognize the GOHD20U as your Skype conferencing camera. The GOHD20U offers a 72.5 degree wide angle lens with 12x optical zoom. The GOHD20U Skype conferencing camera can stand alone on a tabletop or any flat surface. For your convenience, we also offer optional mounts in this package as well so you can mount the camera on top of a flat screen tv or on a wall.
This hardware kit for Skype also includes an optional audio component. You select the microphone/speakerphone that best meets your requirements:
REVOLABS XTAG wearable clip-on microphone for individual user.
ACOUSTIC MAGIC VOICETRACKER II array microphone for larger conference room.
STANDARD SKYPE KIT CONTENTS:
One (1) GO ELECTRONIC GOHD20U high definition USB 3.0 pan-tilt-zoom camera
One (1) 5 FT USB cable (included with camera)
**Please note: Video conferencing software is required for a complete system. To purchase Skype software (or hosted service) and/or for Skype support
click here.
PACKAGE CONTENTS:
ONE (1) GOHD20U USB 3.0 HD PTZ Camera

OPTIONAL AUDIO COMPONENTS:
One (1) REVOLABS XTAG USB Wireless Microphone. FOR INDIVIDUAL USER
One (1) ACOUSTIC MAGIC VOICETRACKER II Array Microphone. FOR LARGER CONFERENCE ROOM (20+ ft coverage)
OPTIONAL MOUNTS:
One (1) WM-35 Wall Mount (available in black)