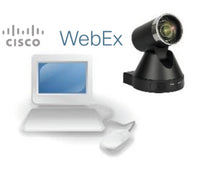 Webex Conferencing Package with High Definition USB PTZ Camera
The Webex High Definition USB Conferencing Package is a simple solution for outfitting a conference room with equipment for high quality Webex conferencing.
The GO ELECTRONIC GOHD20U is our recommended high definition camera for Webex. With it's plug-and-play interface via a USB port, there is no need for PCI cards or additional capture hardware. You simply need to connect the camera to the USB port of your computer, start a video call within Webex, and Webex will automatically recognize the GOHD2U as a USB conferencing camera. The GOHD20U offers a 72.5 degree wide angle lens with 12x optical zoom. The GOHD20U camera can stand alone on a tabletop or any flat surface. For your convenience, we offer an optional wall mount in this package as well.
This Webex package also includes an optional audio component. Although the GOHD20U camera does include a built-in microphone, you may prefer a microphone more centrally located in the conference room or a lapel mic worn my the main speaker. With it's 20+ feet of coverage, the Acoustic Magic Voice Tracker II is best for larger rooms. The Revolabs xTag is ideal for conferences in which there is only one speaker. This wearable clip-on microphone is wireless thus eliminating the restriction of being tethered to the computer. The speaker can move freely around the room up to 20 meters from the base station. All of these audio devices connect to your computer via a USB port.
STANDARD PACKAGE CONTENTS:
One (1) GO ELECTRONIC GOHD20U high definition USB 3.0 pan-tilt-zoom camera
One (1) 5 FT USB cable (included with camera)

PACKAGE CONTENTS/OPTIONS DESCRIBED BELOW

** Note, Webex video conferencing software is not included. To purchase Webex software (or hosted service) and/or for Webex support click here.**

OPTIONS/ADD-ONS

OPTIONAL AUDIO:
One (1) REVOLABS XTAG USB Wireless Microphone. FOR INDIVIDUAL USER
One (1) ACOUSTIC MAGIC VOICETRACKER II Array Microphone. FOR LARGER CONFERENCE ROOM (20+ ft coverage)

GOHD20U OPTIONAL MOUNTS:
One (1) MT20-B Wall Mount (in black)