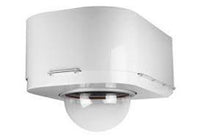 SONY BRZ-12CDH Cooled/Heated Indoor/Outdoor Environmental Dome Camera Enclosure
Sony is pleased to introduce a new BRC actively cooled/heated indoor/outdoor dome enclosure, the BRZ-12CDH . This IP66 environmental housing was optically designed for use with Sony's BRC-X1000, BRC-H900 and BRC-H800 PTZ cameras . This environment enclosure provides water and dust ingress protection and offers active cooling and heating with a Peltier device to maintain ideal camera operating conditions throughout a -25˚C to 45˚C ambient temperature range. The housing comes with a built-in IP67 rated power supply (110/220 /12 vdc output). Optional wall/ceiling mount and wall/pole mount kits are available as accessories.

APPLICATIONS
Sports/Events Stadiums
Concert halls / Ampitheaters
Indoor Arenas
Horse/Auto Race Tracks

FEATURES
12.5" dome for unobstructed viewing through full camera tilt range of +30˚to - 90˚ (with camera inverted inside enclosure).
Thermoelectric cooling device (TEC) provides sub-ambient temps within the enclosure.
Enclosure mounts directly to walls, poles and overhangs with optional mounting kits listed above.
Light industrial grey powder coated aluminum body.
IP66 rated seal to prevent dirt, dust and moisture ingress protection.

SPECIFICATIONS
Dimensions: 17 3/8 x 21.0 x 27.5 inches (441.3 x 533.4 x 698.5 mm)
Weight: 52 lbs (23.58 kg)
Optical Dome: Clear Cell Cast Acrylic
Input Power: 90 - 305VAC, 47 - 63HZ, 2.5A/115VAC 1.3A/230VAC 1.1A/277VAC
Construction: Aluminum Alloy outer shell, Acrylic / PMMA bubble