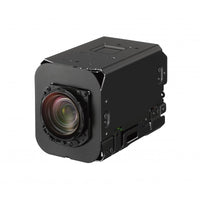 SONY FCBER8530 4K 20x Zoom Block Camera
Equipped with the latest Sony CMOS sensor technology the FCB-ER8530 is the latest edition to the highly regarded FCB-ER series.
The FCB-ER8530 offers 4K resolution at 30fps together with an integrated 20x Optical Zoom lens. The form factor is almost identical to FCB-EV7520 thus offering a convenient solution to migrate to 4K without necessarily needing to re-design your end solution.
The FCB-ER8530 inherits a multitude of features from Sony's world-renowned FCB Series including VISCA commend protocol, Auto-ICR and Image Stabilisation. These market leading features are suitable for a variety of demanding applications.
FEATURES
Capture crisp, clear 4K @30fps images
The high-performance 1/2.5-type Exmor R CMOS image sensor achieves superb 4K (QFHD) picture quality. Using the latest Sony sensor technology the FCB-ER8530 can produce high quality images even in a wide variety of lighting conditions.


Fast, bright lens with rapid 20x optical zoom
The high quality lens offers a bright F2.0 maximum aperture and 20x optical zoom range. Fast zoom operation (from wide end to tele) is ideal for smooth, rapid transitions from wide area coverage to detailed close ups ensuring critical detail is not missed.


Get a steadier picture with image stabilizer
The camera's built-in image stabilizer function counters the effects of blurred, shaky images caused by low-frequency vibration. It's useful for outdoor surveillance and traffic monitoring applications where the camera may be subject to wind or mechanical vibration such as on a bridge or mounting pole.


Advanced 2D/3D Noise Reduction
Advanced noise reduction technology filters noise from the image for clearer results, especially in low light conditions. Noise reduction can be selected from six steps to suit a wide range of operating environments.


Clear vision round the clock with Day/Night
Benefit from optimized picture quality in changing light conditions – a frequent challenge in round-the-clock operations. In high sensitivity mode the camera can operate effectively in lighting levels as low as 0.21lx (50%, ICR off, Slow Shutter 1/4s, High sensitivity off) and 0.06 lx (50%, ICR off, Slow Shutter 1/4s, High sensitivity on).


See more clearly with Visibility Enhancer and De-fog
Picture quality is enhanced dynamically and adaptively on a pixel-by-pixel basis while continuously adapting to the scene within the given dynamic range. There's also a de-fog feature that allows clearer viewing in foggy or misty scenes.


Auto ICR (Auto IR-cut Filter Removal)
In low light conditions the camera automatically switches from day to night mode, removing the IR-cut filter to boost sensitivity for clear pictures in near-darkness.


Wide range of features for versatile operation
Versatile operation is ensured by a wide range of functions and adjustments, including: White Balance modes; Picture effects (E-Flip, Black & White, Mirror Image, Colour Enhancement, Gamma); Privacy Zone Masking; Picture freeze; Shutter Priority; Iris Priority (26 steps) Slow AE response etc.

TECHNICAL SPECIFICATIONS

Image sensor
1/2.5 type Exmor R CMOS
Number of total pixels
Approx. 8.51 Mega Pixels
Lens
20x optical zoom, f = 4.4 mm (wide) to 88.4 mm (tele) F2.0 to F3.8
Digital zoom
12x (240x with optical zoom)
Angle of view (H)
70.2° (wide end) to 4.1° (tele end)
Sync system
No
Minimum illumination
1.6 lux (1/30 sec, 50%, ICR off, High
Sensitivity mode Off )
0.4 lux (1/30 sec, 50%, ICR Off, High
Sensitivity mode On)
0.21 lux (50%, ICR off, Slow Shutter 1/4s, High sensitivity off)
0.06 lux (50%, ICR off, Slow shutter 1/4s, High sensitivity on)
S/N ratio
-
White balance
Auto, ATW, Indoor, Outdoor, Outdoor Auto, Sodium Vapor Lamp (Fix/Auto/Outdoor Auto), One-push, Manual
Gain
Auto/Manual/Max Gain limit/ High Sensitivity (0 dB to 48 dB, 16 steps)
Backlight compensation
Yes
Focusing system
Auto (Sensitivity: normal, low), One-push AF, Manual, Infinity, Interval AF, Zoom Trigger AF, Spot AF, Near Limit, Focus Compensation with IR lighting
Picture effects
Defog (Auto, 3 levels), Visibility enhancer, Black & White, E-Flip, Mirror, Colour enhancement, Black level, gamma, Sat/Hue Adjust, HLC, Colour Bar
Camera operation switch
No
Video output
Digital Y/Cb/Cr 4:2:2 8 bits component, R/G/B 4:4:4 8bits component, similar to CEA-861-F HDMI1.4b
Camera control interface
VISCA protocol (CMOS 3.1V), 9.6 Kbps, 19.2 Kbps, 38.4 Kbps, 115.2 Kbps, Stop bit 1/2 bit, PTP USB
Storage temperature
-20°C to +60°C (-4°F to 140°F)
Operating temperature
-5°C to +60°C (23°F to 140°F)
Power consumption
3.0 W
Mass
Approx. 272 g
Dimensions (W x H x D)
50.0 x 60.0 x 93.2 mm